Please find

details

below relating to the upcoming ANZAC Day march ceremonies.
With the day falling close after the Easter long weekend, there are some thoughts that the participation may be less, as many opt to have an extended holiday week away with family and friends.
For this reason, the times are approximate, and it is suggested that you arrive at least half an hour earlier, (as noted below) in case the step off time is brought forward to accommodate the smaller group participation, and the less time impacted on each section marching.
The RAEME Association of Victoria look forward to seeing as many new faces as possible at the march and subsequently at the after function.
ANZAC DAY PARADE 25 April 2019
Form up Collins St East (south side) RAV Inc Banner will be displayed
ANZAC House has requested that members form up 40 minutes
prior
to Step Off time of 0910
Form up; 0830h RAV Inc will form up with Army RAEME Vietnam Association (all RAEME March as one)
RAEME AssociationVic Inc Banner will be displayed
Details below are for those wishing to know about transport arrangements during the day and public transport links attached.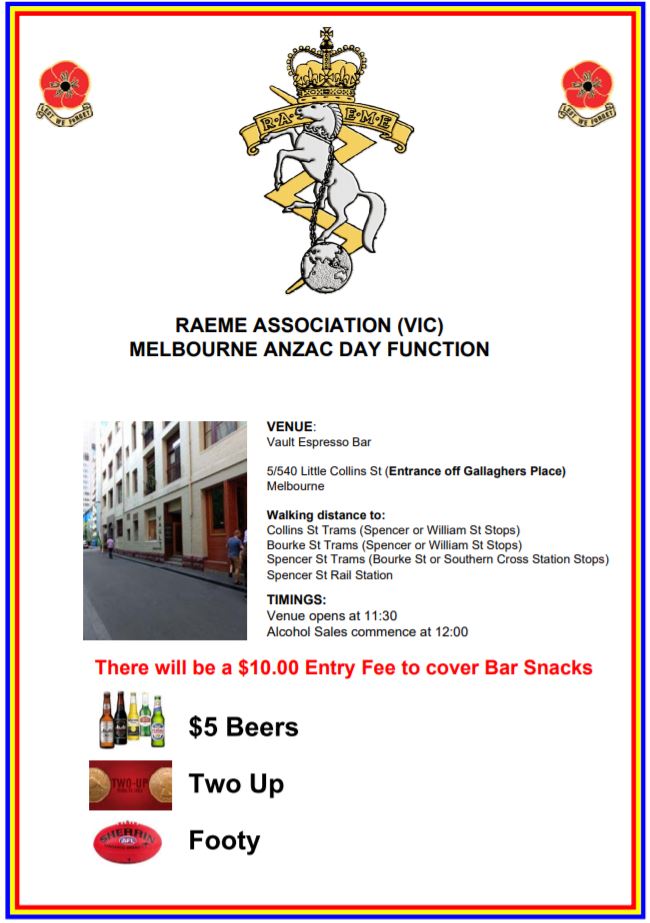 OUR PURPOSE & MISSION
To preserve the memory of those who have died whilst on active service or at home and to perpetuate the comradeship created by previous or current serving members in any field of RAEME during war or peace.
MEMBERSHIP
All personnel who have served in AEME/RAEME in the Regular or Reserve forces, retired members, personnel attached to RAEME or Commonwealth Corps of Electrical and Mechanical Engineers are eligible to join as ordinary members.
Any person over the age of 18 years, being an immediate family of an ordinary or deceased ordinary member, is eligible to become an Associate member.
HISTORY
The AEME Association (Vic Division) was formed in 1945. In November 1948 the EME Corps (UK) was granted the title "Royal Electrical and Mechanical Engineers" by King George VI. In November 1949 the Corps was granted the title "Royal Corps of Australian Electrical and Mechanical Engineers" making us the only "Royal Corps" in the Australian Army at that time. Later the "Royal Corps" title was withdrawn and we became known as "The Royal Australian Electrical and Mechanical Engineers Corps".
In 1961 Parliament granted approval to add the "Royal" title to the AEME Association, and we became the Royal Australian Electrical and Mechanical Engineers Association (Victoria), and Incorporated under this name.
Webmaster: Morgan Cornelius

For all enquiries, please email us via the CONTACT US page

Please note that the RAEME Association (Vic) Inc Newsletter "Lightning Flash"
is for financial members or other authorised persons only.
It is a breach of Copyright (C) to place it on a social media site such as Facebook.